Survey: Online courses reduce students' social skills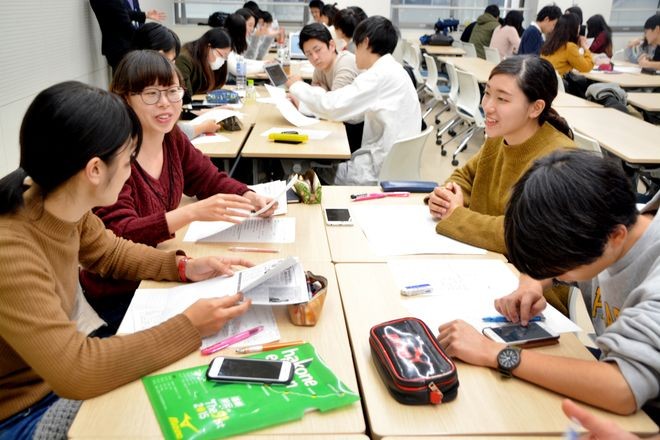 The increased use of online courses during the COVID-19 pandemic has weakened college students' ability to cooperate, socialize or work patiently, attributes valued by potential employers, a survey has found.
The survey, called Progress Report on Generic Skills (PROG), was conducted by Tokyo-based Pick & Mix, an affiliate of the Kawaijuku cram school, to compare students' social skills in their first and third years. of university.
Data from 20,556 juniors surveyed in 2021 revealed they had become less cooperative in achieving common goals, less able to build good relationships, and showed diminished leadership and patience compared to when they were freshmen.
According to the survey, the increase in online courses used during the health crisis has provided fewer opportunities for students to hold discussions or present research results in groups. This, in turn, reduced their ability to build trust and work with their teammates.
In the 2020 survey, juniors showed improvements in these abilities compared to their freshman year, before the pandemic hit.
The PROG survey asks students 225 questions, including whether they speak candidly or politely with others and whether they lead their teammates or act in agreement with others in a group.
Students' co-operative and social skills are rated on a scale of 1 to 7 based on their "totally" or "somewhat" agree responses.
Naoki Matsumura, chief researcher at the General Career Research Institute of Riasec Inc., a Tokyo-based company that developed the PROG with Kawaijuku, said the deterioration in students' skills can be attributed to the numerous courses taught. on the Internet.
The new coronavirus pandemic broke out in the spring of 2020, when the juniors covered by the 2021 survey had just started their second year.
"There were fewer opportunities for them to work in groups during class," Matsumura said. "The reduction in opportunities for discussions and presentations among students has had a serious impact as such sessions help to improve their abilities."
He said the students had lost patience as "various activities were restricted during the coronavirus crisis, which made it difficult to take independent action."
Juniors, however, were able to identify problems, take action and make plans as well as third-year students in the 2020 survey.
"Many students likely honed these skills by engaging in homework and reflecting on content taught in online courses," Matsumura said. "The planning capability has apparently been honed to effectively handle many missions in many cases."
He said university operators need to review their teaching methods, such as introducing group sessions and strengthening career-oriented training programs.
According to Matsumura, people who participate in voluntary workshops organized by teachers and students or who seek advice from teachers and other university staff tend to have increased basic skills, including cooperation, even during the pandemic.
"For students to cultivate this kind of attitude, they need to be made aware of their future prospects at an early stage," he said.